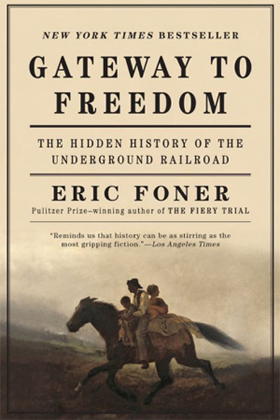 This week's #SaturdayScene is a continuation of last week's excerpt from Pulitzer Prize-winning historian Eric Foner's Gateway to Freedom: The Hidden History of the Underground Railroad—the dramatic story of fugitive slaves and the antislavery activists who defied the law to help them reach freedom. Here, we meet-up with Frederick Bailey, having just crossed the Hudson River to a dock at the foot of Chambers Street in New York City. 
In spite of his exhilaration, Bailey was frightened, alone, and had no real plan about what to do next.  He encountered Jake, a fugitive slave he had known in Maryland, who warned him that although they were in a free state, slave catchers roamed the city's streets.  Shortly thereafter, a "warm-hearted and generous" black sailor directed him to the home of David Ruggles at 36 Lispenard Street, not far from the docks.  Ruggles was secretary and prime mover of the New York Vigilance Committee, founded three years earlier to combat an epidemic of kidnapping.  Many years before Solomon Northup drew attention to this problem in his widely-read memoir, Twelve Years a Slave, free blacks, frequently young children, were abducted on New York's streets for sale into southern slavery.  The committee also provided fugitives from the South with shelter, transportation, and if they were apprehended, legal representation.  By 1838, Ruggles was the leader of a network with connections to antislavery activists in Baltimore, Philadelphia, New England, and upstate New York.  He regularly scoured the wharfs, on the lookout for fugitive slaves.  Ruggles took Bailey into his home, advised him to change his name to help avoid recapture–Frederick Bailey now became Frederick Johnson–gave him his first introduction to antislavery activities, and mailed a letter to Anna Murray, urging her to come to New York at once. A few days later the couple married in Ruggles' parlor.  The Rev. James W. C. Pennington performed the ceremony.
Like Bailey, Pennington (born James Pembroke) was a fugitive slave.  He had escaped in 1827, at the age of twenty-one, from Washington County, Maryland, just south of the Mason-Dixon line, leaving behind his parents and ten brothers and sisters.  Pembroke's journey to freedom proved far more harrowing than Bailey's. He started out on foot but with "no knowledge of distance or direction," ended up heading southeast, toward Baltimore, not north.  He received advice from a number of people, white and black, about how to avoid slave catchers, but at one point a group of men seized him, hoping to claim the two hundred dollars reward his owner had advertised for his return.  Pembroke managed to escape from his captors and eventually made his way to southern Pennsylvania, where a Quaker couple, William and Phoebe Wright, sheltered him for six months, paid him for work as a farm laborer, and taught him to read and write.  Pennington moved on to New York City in 1828.  He found a job in Brooklyn, attended classes in the evening, and became a teacher in a black school on Long Island.  By the time he officiated at the Baileys' wedding Pennington had become pastor of a local Congregational church.
Unlike Pennington, Frederick Bailey/Johnson did not remain in New York.  He considered himself "comparatively safe," but Ruggles appreciated the precarious situation of fugitives in the city.  Soon after their wedding he gave the couple five dollars (more than a week's wages for a manual laborer at the time) and told them to head to New Bedford, Massachusetts, where another black abolitionist would receive them.  A major port city, New Bedford was the world's whaling capital.  Its shipyards and ocean-going vessels provided employment to many free blacks and escaped slaves.  Indeed, because of its strong abolitionist movement and thriving black community long accustomed to sheltering runaways, the city was known as the "fugitive's Gibralter" (or, as a Virginia newspaper put it, "a den of negro thieves and fugitive protectors.")  In the fall of 1838, having discovered that in New Bedford, Johnson families were "so numerous as to cause some confusion in distinguishing one from another," Frederick Bailey changed his name one last time. Henceforth, he would be known as Frederick Douglass.
---
Purchase your copy of Gateway to Freedom: The Hidden History of the Underground Railroad, winner of the American History Book Prize by the New-York Historical Society, from your favorite retailer:
Amazon  |  Apple  |  B&N  |  Kobo  |  Find your favorite Indie Bookseller
About the Author: Eric Foner is the preeminent historian of his generation, highly respected by historians of every stripe―whether they specialize in political history or social history. His books have won the top awards in the profession, and he has been president of both major history organizations: the American Historical Association and the Organization of American Historians. A specialist on the Civil War/Reconstruction period, he regularly teaches the nineteenth-century survey at Columbia University, where he is DeWitt Clinton Professor of History. In 2011, Foner's The Fiery Trial: Abraham Lincoln and American Slavery won the Pulitzer Prize in History, the Bancroft Prize, and the Lincoln Prize.
Visit Eric Foner's website.