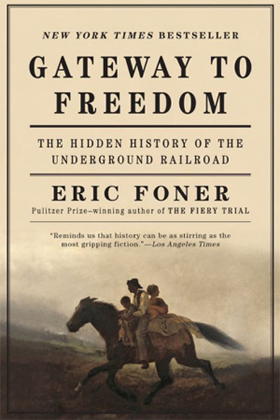 "Illuminating . . . an invaluable addition to our history."
– Kevin Baker, New York Times Book Review
"[A] detailed narrative . . . infused with the spirit of freedom."—Bruce Watson, San Francisco Chronicle

"Riveting . . . a visceral chronicle of defiance and sacrifice."—Edward P. Jones, O Magazine
More than any other scholar, Eric Foner has influenced our understanding of America's history. In Gateway to Freedom, the Pulitzer Prize-winning historian makes brilliant use of extraordinary evidence—and, once again, reconfigures the national saga of American slavery and freedom.
This week's #SaturdayScene is excerpted from Foner's Gateway to Freedom—the dramatic story of fugitive slaves and the antislavery activists who defied the law to help them reach freedom.
The nineteenth century's most celebrated black American first tasted freedom on September 4, 1838, when he arrived in New York City as a nineteen-year-old fugitive slave.  Frederick Bailey had long hoped to escape from bondage.  As a youth in Maryland he gazed out at the ships on Chesapeake Bay, seeing them as "freedom's swift-winged angels."  He secretly taught himself to read and write, understanding, he later wrote, that knowledge was "the pathway from slavery to freedom."  In 1836, he and four friends devised a plan to abscond by canoe onto the bay and somehow make their way north.  But the plan was discovered and before their departure the five were arrested, jailed, and returned to their owners.
Two years later, while working as a caulker in a Baltimore shipyard, Bailey again plotted his escape, this time with the assistance of Anna Murray, a free black woman he planned to marry. She provided the money for a rail ticket and Bailey borrowed papers from a retired black sailor identifying him as a free man.  Dressed in nautical attire he boarded a train, hoping to reach New York City.  Maryland law required black passengers on the Philadelphia, Wilmington, and Baltimore line (which opened only a year before Douglass's escape) to apply for tickets before 8 a. m. on the day of travel so that their free papers could be examined and, if necessary, investigated.  But the measure remained largely unenforced.  Douglass used a printed timetable to arrive at the station at the moment of a train's departure and purchased his ticket on board to avoid scrutiny.
Despite the short distance–less than two hundred miles–the trip proved arduous and complicated. Thirty-five miles north of Baltimore the passengers had to disembark to cross the Susquehanna River by ferry.  At Wilmington, they boarded a steamboat for Philadelphia.  There, Bailey later recalled, "I enquired of a colored man how I could get on to New York." The man directed him to a depot where Bailey took a ferry to Camden, New Jersey, then the Camden and Amboy railroad to South Amboy, then another ferry across the Hudson River to a dock at the foot of Chambers Street.  Less than twenty-four hours after leaving Baltimore, he disembarked on free soil.  "A new world burst upon my agitated vision," he would later write.
To be continued. . . join us next week for another excerpt from Gateway to Freedom. 
Can't wait? Get your copy of Gateway to Freedom, winner of the American History Book Prize by the New-York Historical Society, from your favorite retailer:
Amazon  |  Apple  |  B&N  |  Kobo  |  Find your favorite Indie Bookseller
About the Author: Eric Foner is the preeminent historian of his generation, highly respected by historians of every stripe―whether they specialize in political history or social history. His books have won the top awards in the profession, and he has been president of both major history organizations: the American Historical Association and the Organization of American Historians. A specialist on the Civil War/Reconstruction period, he regularly teaches the nineteenth-century survey at Columbia University, where he is DeWitt Clinton Professor of History. In 2011, Foner's The Fiery Trial: Abraham Lincoln and American Slavery won the Pulitzer Prize in History, the Bancroft Prize, and the Lincoln Prize.
Visit Eric Foner's website.