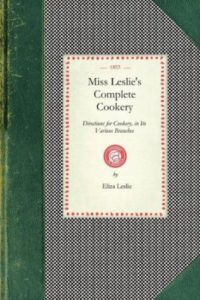 "Every one knows that "the" event of Thanksgiving Day is the Thanksgiving dinner. And it is right and reasonable that it should be thus. For a good dinner is the crowning achievement of every home. It strikes a chord to which all hearts are responsive."—Godey's Lady's Book
While the most widely recognized "first" Thanksgiving was shared in 1621 by the Pilgrims and Wampanoag at Plymouth Colony, it would take another 242 years before the harvest celebration was an "official" holiday—established October 3, 1863 in a Proclamation signed into effect by President Abraham Lincoln asking for a "national day of thanksgiving."
According to Jennie June's American Cookery Book, a Thanksgiving Dinner in the 1860s, might include: Oyster soup, roast turkey, cranberry sauce, mixed pickles, cold slaw, sweet potatoes, roasted broccoli, mince pie, apple pie, fruits, nuts, and raisins. Sounds pretty good, right? That is until we start digging in to the actual recipes . . . .
For this, we turned to Miss Leslie's Complete Cookery, Directions for Cookery, in Its Various Branches by Eliza Leslie—one of the most popular American cookbooks of its time and one Mary Todd Lincoln used to teach herself how to cook.
A word of caution: You might want to think twice before trying these at home. Just sayin'.
OYSTER SOUP
Season two quarts of oysters with a little cayenne. Then take them out of the liquor. Grate and roll fine a dozen crackers. Put them into the liquor with a large lump of fresh butter. When the grated biscuit has quite dissolved, add a quart of milk with a grated nutmeg, and a dozen blades of mace; and, if in season, a head of celery split fine and cut into small pieces. Season it to your taste with pepper. 
Mix the whole togethr, and set it in a closely covered vessel over a slow fire. When it comes to a boil, put itin the oysters; and when it comes to a boil again, they will be sufciently (sic) done. Before you send it to table put into the gureen some toasted bread cut into small squares, omitting the crust. 
TO ROAST A TURKEY
Make a force-meat of grated bread-crumbs, minced suiet, sweet marjoram, grated lemon-peel, nutmeg, pepper, salt and beaten yolk of egg. You may add some grated cold ham. Light some writing paper, and singe the hairs from the skin of the turkey. Reserve the neck, liver, and gizzard for the gravy. Stuff the craw of the turkey with the force-meat, of which there should be enough made to form into balls for frying, laying them round the turkey when it is dished. Dredge it with flour, and roast it before a clear brisk fire, basting it with cold lard. Towards the last, set the turkey mearer to the fire, dredge it again very lightly with flour, and bast it with butter. It will require, according to its size, from two to three hours roasting. 
Make the gravy of the giblets cut in pieces, seasoned, and stewed for two hours in a very little water; thicken it with a spoonful of browned flour, and stir into it the gravy from the dripping-pan, having first skimmed off the fat. 
A turkey should be accompanied by ham or tongue. Serve up with it mushroom-sauce. Have stewed cranberries on the table to eat with it. Do not help any one to the legs, or drum-sticks as they are called. 
Turkeys are sometimes stuffed entirely with sausage-meat. Small cakes of this meat should then be fried, and laid round it. 
COMPOTE OF SWEET POTATOES
Select fine large sweet potatoes, all nearly the same size. Boil them well and then peel off the skins. Then lay the potatoes in a large baking-dish; put some pieces of fresh butter among them, and sprinkle them very freely with powdered sugar. Bake them slowly, till the butter and sugar form a crust. They should be eaten after the meat. This is a Carolina dish, and will be found very good. 
THE BEST MINCE-MEAT PIE
Take a large fresh tongue, rub it with a mixture, in equal proportions, of salt, brown sugar, and powdered cloves. Cover it, and let it lie two days, or at least twenty-four hours. Then boil it two hours, and when it is cold, skin it, and mince it very fine. Chop also three pounds of beef suet, six pounds of sultana raisins, and six pounds of the best pippin apples that have been previously pared and cored. Add three pounds of currants, picked, washed and dried; two large table-spoonfuls of powdered cinnamon; the juice and grated rinds of four large lemons; one pound of sweet almonds, one ounce of bitter almonds, balanced and pounded in a mortar with half a pint of rose water; also four powdered nutmegs; two dozen beaten cloves; and a dozen blades of mace powdered. Add a pound of powdered white sugar, and a pound of citron cut into slips. Mix all together, and moisten it with a quart of cream. 
If you cannot obtain cream, you may substitute a quarter of a pound of fresh butter stirred with the sugar and quince. 
AN APPLE POT PIE
Make a paste, allowing a poiund of butter, or of chopped suet to two pounds and a quarter of flour. Have ready a sufficient quantity of fine juicy acid apples, pared, cored, and sliced. Mix with them brown sugar enough to sweet them, a few cloves, and some slips of lemon-peel. Butter the sides of an iron pot, and line them with paste. Then put in the apples, interspersing them with thin squared of paste, and add a very little water. Cover the whole with a thick lid of paste, cutting a slit in the centre for the water to bubble,up and let it boil two hours. When done, serve it up on a large dish, and eat it with butter and sugar. 
Bon Appetit!
---
Resources: 
Avey, Tori (2012), Thanksgiving, Lincoln and Pumpkin Pudding, The History Kitchen
Croly, J.C. (1866), Miss Jennie June's American Cookery Book, American News Company, NY
Gambino, Megan (2011), What Was on the Menu at the First Thanksgiving, Smithsonian.com
Leslie, Eliza (1837, Reprint 1853), Miss Leslie's Complete Cookery, Directions for Cookery, in Its Various Branches, Applewood Books, Bedford, MA
Thomas, JD (2015), A Year in the Home: November, Godey's Lady's Book, Accessible Archives
*Updated 11/2017