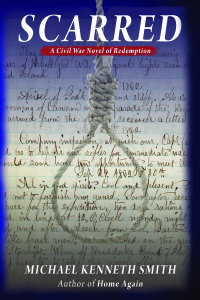 Michael Smith is available for book club visits in person or via Skype, as well as speaking engagements related to the craft of writing or the American Civil War. You can reach Michael directly by emailing:
AuthorMKS@gmail.com
.
SCARRED: A Civil War Novel of Redemption Reading Group Guide
Discussion Questions:
Much of the novel is told in flashbacks. Why do you think Smith chose to have his story's frame be an interview with Chris Martin? What does the frame add to the story?
Zach has remained silent about his war experiences. Why do you think he finally opens up—and to a reporter, no less?
In what ways do codes of honor shape this novel?
Was some of the history described in the novel unknown to you? Do you think historical fiction can teach us about history? In what ways? In what ways does fiction not teach us history?
Who in this story is redeemed?
What father & son relationships are in the book? Why do they matter?
What does the book say about romantic love?
Chris has to fight to tell Zach's story the way he feels is appropriate. Do you think much has changed with the media and reporting today? Do you think Chris will have a different experience as a journalist working in Knoxville?
When Zach takes a stand against the slave hunters, everything in the novel changes. Discuss the ways in which this scene is key to the novel.
Zach continues to work with guns, despite his trauma. Why do you think he chose his vocation?
An Interview with Michael Kenneth Smith:
1. Your first career was in the auto parts business. How and when did you begin writing?
As an engineering student in college, no humanities or electives were required, however, in my junior year, for some reason I signed up for a course in creative writing. The first day of class, the professor asked each student to write a short story to be submitted by the next class. A week later, the professor read my short story to the class. I thought nothing of it because I was an honest, slide-rule toting, engineering type. I couldn't be bothered with short stories and other such drivel. But the memory of that 'A' I received in that class stuck with me through the years. Ironically, that short story became the last chapter of my first book, Home Again.
2. Your two novels are stand-alone titles but also linked. Did linking the two books present challenges? What was the hardest part of writing these novels?
In the first book, Home Again, one of the protagonist, Zach Harkin, is sent home before the war was over because he had a severe case of what we now know as Post Traumatic Stress Disorder (PTSD). The Civil War was so horrible that Zach must have typified the condition of many returning soldiers. So, it was a natural passing of events to tell the story of a PTSD afflicted soldier. Very little had been written about this disorder and Zach's story seemed compelling.
3. Why did you decide to continue Zach's story?
Many readers of Home Again inquired about Zach and the other protagonist, Luke Pettigrew. Some couldn't believe Luke actually passed away when he finally got home to his parent's ruined homestead, but as he typified the plight of the South, he was a goner, so that left Zach. One of the most effective therapies for PTSD is for the patient to talk about his war experiences and with a time delay of fifty years, Zach finally tells his story which is the essence of my second book, Scarred.
4. What research did writing your novels require?
The closer a historical novel follows history, the more research is required. As an author, I am a stickler for accuracy, so a lot of thorough research went into it. Visiting the actual battle and other pertinent sites was mandatory and added to the realism. My library is full of non-fiction reference books and I used them over and over. Of course, the internet is invaluable and I am always amazed at the amount of information available with just a couple clicks.
5. What led you to write about the Civil War? Have you always been a Civil War buff?
As a teenager, Civil War books by Bruce Catton captured my imagination. I had them all and I read them over and over again. I have always been a student of the war.
6. Is it harder to write a battle scene or a love scene?
Oh my gosh! Give me a battle scene every time. That is easy. Now a love scene gets complicated. I can't refer to a book to figure out what happens next. It's not that I lack interest, but writing a love scene is daunting. There is a scene in Scarred where Zach crawls into bed with a beautiful woman who is a bit older. Maybe it's just me, but when writing the scene, I just pictured all my male friends snickering as if I was disclosing some of my inner-most experiences.
7. Why did you choose to self-publish? Do you have any tips for writers who are considering self-publishing?
When the manuscript of Home Again was somewhat finished, I thought I would attempt to traditionally publish. I knew absolutely nothing about anything. First of all, I thought my book wasn't worth publishing. Then, when some respectable readers encouraged me, I started to look for a literary agent. I sent out 25 'inquiry' letters and waited. And waited. I got several back with a negative "your novel doesn't fit into what we're looking for" response so I sent out 25 more. As I studied the situation, I realized that getting published can take a long time. Maybe a year to find an agent, another year for the agent to sell the book to a publisher. Then the publisher might wait a year or two more. Hey, I was seventy-two at the time. I wanted the book to get out there so I could move on to the next book. The answer was to self-publish. As for tips to get self-published? Read. Do research. There is tons of advice available free on line. Take notes and be thorough.
8. Did you study with any writers?
Not really, I tend to be a self-taught type. When the manuscript was nearly finished, I decided I needed some help with all sorts of things and submitted it to be accepted at a summer seminar at Kenyon College. For some reason, they accepted me and I spent a week with eight others writers, each of whom were going over their new manuscripts, also.
9. What's next?
My next book changes from the Civil War to World War II. It is a novel but follows the life of Andree de Jongh, a young woman in the Belgium/French resistance who was instrumental in getting over eight hundred British and American downed flyers back to England.
 Selected Praise for  SCARRED A Civil War Novel of Redemption
"Michael Kenneth Smith's absorbing historical novel explores the violence and moral dilemmas endured by civilians, prisoners, and soldiers alike during the bloody Civil War….Harkin is a vibrant protagonist who grows increasingly sympathetic throughout. Meanwhile, Scarred's pace is nearly cinematic… This, however, isn't a war novel; it's the story of Harkin's quest for redemption and closure. Historical fiction and Civil War buffs will wish Scarred were closer to the epic length of Gone with the Wind, simply because the subject never grows tiresome….an engrossing, moving read."—BlueInk Review
"This lean Civil War sequel packs in more history and raw emotion than a 600-page epic….Smith writes wonderfully and realistically, and one can hear the pacing and menace:… Smith knows the Civil War in his bones…."—Kirkus Reviews
"This is a novel not just about the Civil War – or even war itself – but rather an examination of the layered scars of trauma laid down by months and years spent in the battlefield. Ultimately it is a story about the human heart and how love and friendship heals and maybe even redeems."—Rafael Lima, Professor, University of Miami, School of Communication
"Smith is a master of description and dialogue. . . . In a long weekend, one could read Scarred all the way through and feel rewarded by the familiarity of characters, enhanced knowledge of the Civil War and excellent writing."—Jill Zima Borski, Board chair, Florida Outdoor Writers Association, and author of Know That I Have Lived, a memoir in essays
" . . . a haunting love story . . . . keeps the reader turning pages, rooting for this man who finds himself trapped between the North and South and only wanting peace."—Susannah Carlson, author of Picnic Point
"I give it 5 stars . . . well done. . . "—InJoyful Book Reviews
"SCARRED is an eloquent tale told through vividly fleshed-out characters . . . and is enjoyable historical fiction with a romantic twist."—Foreword Clarion Reviews (5 stars)
Selected Praise for  HOME AGAIN A Civil War Novel
One of Indie Reader's Best Books, 2014
IndieFAB Honorable Mention Award Winner—War and Military, 2014
"In the end, the brilliance of Home Again lies less in its fictional machinations, and more in the author's impressive depth of historical research and knowledge. Home Again is a novel for military and Civil War enthusiast who already know the historical backstory, love to revel in it, and will thrill to the action, both real and imagined."—Inkspots Reviews
"A fantastic debut."—Self-Publishing Review
"With wonderful attention to historical detail, Michael Smith tells the bracing story of two young men caught in the vortex of bloody civil war."—Michael T. Bernath, Ph.D. Charlton W. Tebeau Associate Professor in American History at the University of Miami and author of Confederate Minds: The Struggle for Intellectual Independence in the Civil War South
About the Author:
Michael Kenneth Smith trained as a mechanical engineer and began a successful auto parts business which he sold in 2000. His award-winning first novel, HOME AGAIN, which begins the story of Zach Harkin, was published in 2014.
Learn more at
 https://twitter.com/AuthorMikeSmith
https://www.facebook.com/Michael-K-Smith-446349665500089/?ref=hl