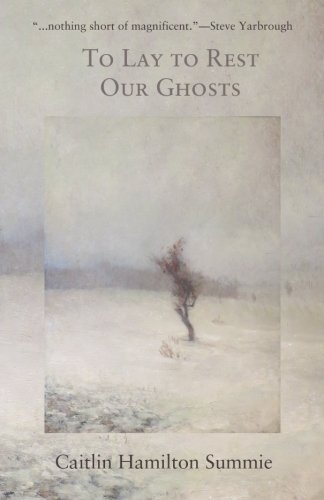 This week's #SaturdayScene features Caitlin Hamilton Summie's To Lay to Rest Our Ghosts of which Peter Geye (Wintering) noted, "If you're a fan of Grace Paley or Ann Beattie or Tobias Wolfe, you'll surely find something to love in these pages." 
In these ten elegantly written short stories, Hamilton Summie takes readers from WWII Kansas City to a poor, drug-ridden neighborhood in New York, and from the quiet of rural Minnesota to its pulsing Twin Cities, each time navigating the geographical boundaries that shape our lives as well as the geography of tender hearts, loss, and family bonds. The following is excerpted from her story "Patchwork". 
Cecily Manning Morris Huffner Bowes. The fifth of nine children, squashed between Jocelyn and Edward, both of whom died of diphtheria. Born in 1909, died in 1953.  Left no will.
"That," my grandmother once said, "is a crock.  She left plenty of will behind, just not the kind they were looking for."
Grandma talked about Cecily on rare occasions, on days when I traipsed home from school in thick snow, and dark came early, and we sat at the kitchen table reviewing the day. Maybe after a glass of wine, when Grandpa started telling stories, and Grandma would insist he had them wrong, and the stories got lost temporarily in the debate. Sometimes then, amidst the chaos, Cecily came through in a line.
I knew that Cecily had sinned, but I didn't know what could drive her apart from the family, make her what she had become, a whisper, a sideways glance, an interrupted line, never recovered. Didn't she deserve a sentence or two in the family history? Everyone got at least a line. Each lady also got a square.
In my parents' basement, packed carefully into cardboard boxes with the baby clothes my mother hopes to pass on, is the women's patchwork quilt. Each generation adds a row, or at least a square.  My grandmother's square is now pale yellow. It's plain save for the careful red stitching that makes her name. Catherine Andersen.
The plainness of her square is striking in a patchwork quilt of names and symbols, favorite colors and long quotes.  Whitman. Roosevelt. The Bible. Her name is all she needed to record. I was here, it seems to say, once a long time ago, and I was called Catherine.
I am Sarah, and I will not sew my name for years. I won't sew my name until I know who I am, can script with such confidence the identity I struggle to define, until I know, as easily, and with such simplicity, the way to be remembered.
Cecily knew. In the second to last row of the quilt is her square, all her names in succession, each one stitched in a different color.
How she had added hers, I'll never know. By the time she had accumulated all those names, she was already persona non grata. But if anyone could get something done, it had to be Cecily.
Cecily, I was told, flipped her long, gold hair once too often. Cecily liked to watch football games with Grandpa, smoking cigarettes one after the other. She went through men just as fast, Grandma said. Cecily used to waltz into Grandma's house, swinging that hair, swinging those slim little hips. She had all the curves in all the right places and liked to show them off, to twist around on the sidewalk to see who might be watching her, to sashay into one of Grandpa's card games or football parties and take a seat.
After all the buildup, I'd expected more. A bank robber, a witch. But what I got was a sassy woman who had had no luck in love. Nothing about Cecily seemed shocking. After all, I lived with my boyfriend, Al. I didn't think she should have been run out of the family will, erased from the family tree. I thought she deserved a round of applause for persistence. And though I wasn't supposed to, I surreptitiously began to write Cecily into the family stories, giving her entire sections all her own because no one, it seemed, would share a story with her.
---
Purchase your copy of To Lay to Rest Our Ghosts from your favorite retailer: 
Amazon  |  Barnes& Noble  |  Kobo Books  |  From your favorite Indie Bookseller
About the Author: Caitlin Hamilton Summie earned an MFA with Distinction from Colorado State University, and her short stories have been published in Beloit Fiction Journal, Wisconsin Review, Puerto del Sol, Mud Season Review, and Long Story, Short. She spent many years in Massachusetts, Minnesota, and Colorado before settling with her family in Knoxville, Tennessee.