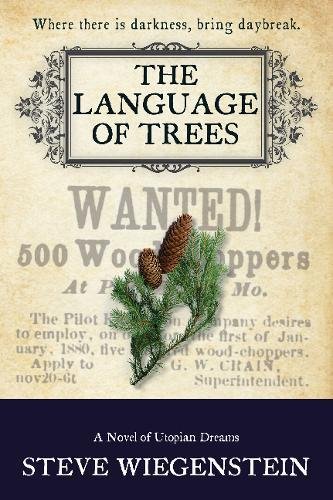 This week's #SaturdayScene features The Language of Trees by Steve Wiegenstein. The inhabitants of Daybreak, a quiet 19th-century utopian community, are courted by a powerful lumber and mining trust and must search their souls as the lure of sudden wealth tests age-old ideals. Love, lust, deception, ambition, violence, repentance, and reconciliation abound as the citizens of Daybreak try to live out oft-scorned values in a world that is changing around them with terrifying speed.

Charlotte Turner fidgeted on the dais as her son's speech entered its twentieth minute. The crown of flowers on her head itched, and she longed to take it off. But the children of the community had made crowns for all the original settlers as a school project, so on it would stay, grapevines and ivy and a strand of bittersweet.
She glanced down the row at the other originals. John Wesley Wickman, upright and pugnacious, fiercer in old age than he'd ever been as a younger man, his glassy gaze reflecting an inner confusion that accounted for his fits of vehemence. Marie Mercadier, similarly afflicted with an inward absence, but from an old head injury, not the erosion of time. And Charley Pettibone, a few years younger than the rest of them, placid as a plow ox, tamed by twenty years of good meals, no longer the rambunctious lad who showed up at the colony with nothing more than a sack of borrowed clothing.
Was that all of them? Just the four? So it was. All the rest gone, lost to time, age, war. So many never came back from the war, and those who did were not the same. Her late husband, for one. So now the next generation had to carry the torch, or so Newton was saying as she refocused her attention on his speech.
Thirty years ago they came in wagons and on horseback, and on flatboats up the river. A hundred people—two score families—to break the soil and subdue the forest. And more important, to establish a new way of living, one in which the artificial divide between wealthy and poor is swept away through common ownership, common purpose, and universal suffrage. Radical ideas then, and radical ideas now. But now the mantle is ours—
Not bad, Charlotte thought, but not delivered with the verve of his father. Now there was a man who could bind a crowd. The first time she'd seen him speak, springing across a makeshift stage made of wagon beds in an open field filled with rapt listeners, her heart had pounded at his galvanism. Newton had inherited his looks, but not his charm. Just as well. James's charm had led him into places— No. She had made a rule long ago not to revisit the past. The past was where nostalgia and resentment lived, and she had no use for either. Yet here she was, sitting on the dais in the Temple of Community during their anniversary celebration like the figure of Nostalgia herself, a living reminder of once-upon-a-time.
---
Language of Trees will be published in September. You can pre-order your copy today:
Amazon  |  From your favorite Indie Bookseller
About the Author: Steve Wiegenstein is the author of Slant of Light (2012) and This Old World (2014). Slant of Light was the runner-up for the David J. Langum Prize in American Historical Fiction, and This Old World was a shortlisted finalist for the M.M. Bennetts Award in Historical Fiction. Steve grew up in the Missouri Ozarks and worked there as a newspaper reporter before entering the field of higher education. He now lives in Columbia, Missouri.